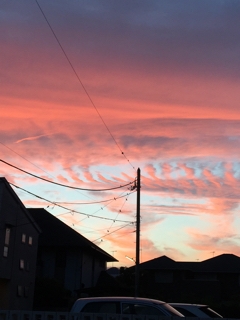 Good morning everyone!
Ohana English From KK (Kugenumakaigan)
It was the day before yesterday 's sunset.
I took this photo from the street.
I should have gone to the 3rd floor of our school for a better view.
But it was still an amazing sunset wasn't it?
一昨日の夕焼けは、綺麗でしたね
スクールのビルの3階からの見晴らしはとてもいいのですが、
これに気が付いた時には
もうすでにスクールを出てしまっていたので、道から撮りました。
それでも、きれいでしょ?.(*´?`*)?.
そう思いませんか?(´??`)